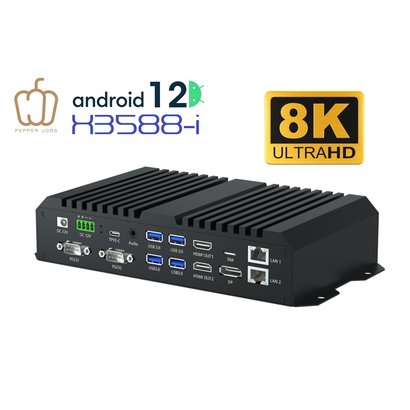 PEPPER JOBS
X3588-i Rockchip RK3588
PEPPER JOBS X3588-i Rockchip RK3588, 8GB/32GB Android 12 Industrial Edition Digital Signage Player
Availability:

In stock (2)
Product description
Brand:

PEPPER JOBS

EAN:

8720589670044

Article number:

PEPPER JOBS X3588-i Rockchip RK3588, 8GB/32GB Android 12 Industrial Edition Digital Signage Player

Availability:

In stock (2)

Here is the specification sheet of the PEPPER JOBS X3588-i
PEPPER JOBS X3588-i RK3588 Edge Computing Device
With super computing power and 8K HD output, the Rockchip RK3588 can be used in a variety of artifical intelligence terminal fields such as smart city, seurity, retail, robotics and internet, live streaming machine, intelligent display, edge computing, AIoT solutions, intelligent large screen, high-end intelligent self-service terminals, and those requiring multiple cameras and displays.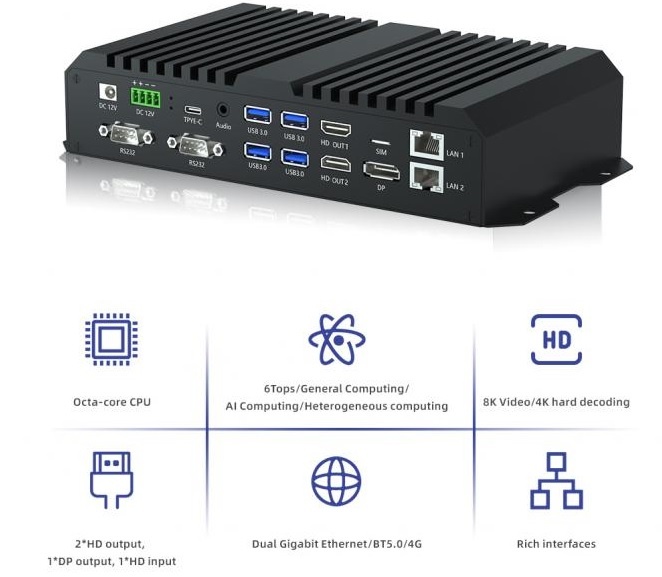 New Generation Flagship AIoT Chip RK3588
Adopt Rockchip new generation flagship AIoT chip Rockchip RK3588, 8m LP process, 8 core CPU 4*A76+4*A55 large and small core architecture, main frequency up to 2.4Ghz, equipped with Android 12.0 system, 8GB Ram and 32GB Rom can confiqured according to the needs** of customers.
High computing power NPU provides 6T computing power support
Built-in AI accelerator NPU with up to 6TOPS computing power, tri-core architecture, support for flexible allocation of computing power, support for INT4/INT8/INT16/FP16 hybrid computing capabilities, computing power up to 6TOPS (INT8)
8K UHD display the ultimate visual experience
Integrated quad-core Mali-G610 MP4 GPU. Support 8K@60fps H.265/VP9 video decoding and 8K@30fps H.265/H.264 video encoding, support the same encoding and decoding, up to 32 channels 1080P@30fps decoding and 16 channels 1080P@30fps encoding, powerful visual decoding ability can make the picture 8K HD presentation, more delicate picture quality
Rich Interfaces
Multiple HD interfaces input and output, confiuration TYPE-C, DP, dual Ethernet, multiple USB Rich interfaces configuration to meet your different needs.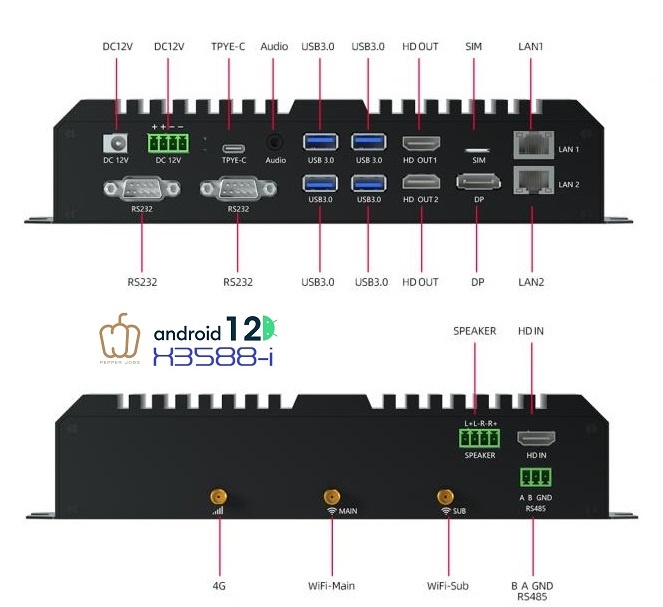 Supports expansion of massive capacity
Built-in M.2 expansion interface for expanding NVMe SSD mass storage devices
Powerful network communication capability
Support WIFI5 + Bluetooth 5.0, tree antennas, support dual Gigabit Ethernet, built-in PCI-E 4G module interface, the network communication has a higher rate.
Application Fields
ARM PC, smart large screen, intelligent cockpit, edge computing, IPC, NVR (NVR is a network hard disk recorder). The most important function of NVR is to receive IPC (network camera) trough the network Digital video streams transmitted by devices and stored, managed, thus realizing the advantages of distributed architecture brought by networking.