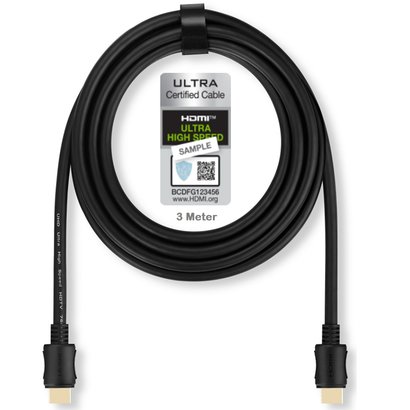 PEPPER JOBS
UHS3M HDMI 2.1 cable 3 meters (HDMI ATC certified)
UHS3M - HDMI 2.1 cable (HDMI ATC certified)
Availability:

In stock (149)
Product description
Brand:

PEPPER JOBS

EAN:

4897089840476

Article number:

UHS3M - HDMI 2.1 cable (HDMI ATC certified)

Availability:

In stock (149)
PEPPER JOBS UHS3M is a premium certified HDMI 2.1 cable. The cable is 3m/10ft in length and has been officially certified by the Ultra High Speed HDMI Certification Program, which is a guarantee that the UHS3M cable fully supports 4K and 8K video, HDR, VRR, eARC, and all other HDMI 2.1 features. Cables are also tested and certified to ensure low EMI to reduce the possibility of interference with wireless networks, streaming media players, Bluetooth devices and mobile phones.

Evolution Revolutionary upgrade
This PEPPER JOBS UHS3M certified HDMI 2.1 cable incorporates the most cutting-edge technology, ensuring transfer speeds that meet your expectations and the high demands of your equipment.

Ultra High Speed
True high speed connectivity between all of your devices with no impedance or interference with networks, players or other digital devices.

Supreme Design and build
Designed for long life usage, this flexible, no-kink cable, incorporates high quality connecting ends and superior materials, ensuring both dependability and durability for every user.
Technical Specifications PEPPER JOBS UHS3M HDMI 2.1 certified cable
Connectors
HDMI type-A to HDMI type-A
Cable Length
3m/10ft
Connector housing material
PVC
Certification
HDMI ATC certified, CE, RoHS
Reviews