Shipment
Your order will be shipped after PEPPER-JOBS.EU has received your payment. All orders are shipped with PostNL, DPD, DHL, UPS or GLS (secured shipment). We will inform you about the progress of our order via e-mail. Please note that these e-mails might end up in your spam filter or kept in quarantine. This happens often, and there is nothing we can do about it!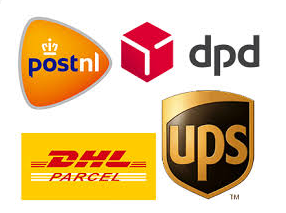 I do not get (or do not have) a payment confirmation and/or tracking code?
Our confirmation e-mail often ends up in the spam box. Please check your spam box to see if our e-mails ended up there. Usually, you should get a confirmation within a few minutes after placing the order.
Free delivery within Europe
*
Pepper-jobs.eu ships within Europe (Belgium (BE), Denmark (DK), Germany (DE), France (FR), Hungary (HU), Ireland (IE), Italy (IT), Luxembourg (LU), Monaco (MC), Netherlands (NL), Austria (AT), Poland (PL), Czech Republic (CZ), and Sweden (SE)) all your orders FREE! For the PEPPER JOBS Products that are delivered in the Netherlands and Belgium, money often ordered before 23:45 is delivered the next day. For the other European countries, there is a delivery time of 2 to 7 working days. Naturally, we depend on the delivery services we work with to achieve this. PostNL, DPD, DHL, UPS & GLS also delivers parcels on Saturdays in the Netherlands! (Now also in Belgium on Saturday)
Shipment other countries
**
Shipping costs for the Countries: Bulgaria (BG), Estand (EE), Finland (FI), Greece (GR), Croatia (HR), Latvia (LV), Lithuania (LT), Portugal (PT), Romania (RO), Slovenia (SI), Slovakia (SK), and Spain (ES) € 7.24 (EU Countries 1)
Shipping costs for the countries: Bosnia and Herzegovina (BA), Iceland (IS), Liechtenstein (LI), Norway (NO), Serbia (RS), Zitserland (CH), Norway (NO), and Ukraine (UA) € 37.24 * (EU countries 2).

* this includes the customs formalities / remote area surcharge.
For other countries, the shipping costs are on request: [email protected] or via our contact page. For other countries the shipping costs can be requested via [email protected] or using our contact page.
Pick up order (after consultations)

We also offer you the possibility to pick up your order for free in Zwolle. Also on Saturdays, Sundays, and evenings. This is only possible upon consultation and after having made arrangements for this. Please let us know that you want to pick up your order. You can prepay via for example iDeal, or pay cash (preferably the exact amount) upon pick-up.
YOU CANNOT USE YOUR DEBIT CARD!
Right of withdrawal or respite
There is a statutory respite (cooling-off period) of fourteen days for distance purchases. This respite will start the day after you received the product. If you decide - within your respite - that you do not want to purchase the product and you want to exercise your right of withdrawal, please contact our
customer service
and fill in the
withdrawal form
and send it to us. Please note: HardwareGuru XBMC/Kodi software is excluded from the right of withdrawal.
As a buyer, you are liable for depreciation if this is the result of handling the product in a way that goes beyond what is required to determine the type, features, and workings of the product. In short; if the product is used or unpacked more than one would do in a physical store, to determine how it works. This will be decided at the discretion of Minixwebshop.eu. Any damages/depreciation will be subtracted from your refund.
You have the right to return your purchase within 14 days after you have invoked your right of withdrawal. You will get a full refund. You will only have to pay for the return shipment from your home to us (costs €8.60 for registered mail via PostNL, with up to €500 insurance). If you want to invoke your right of withdrawal, you must return the product with all supplied accessories - and if possible - in original condition and packaging, to us. Please note: you (the buyer) are responsible for the risk of return (for example if it gets lost).
And please note that all returns agreed upon in advance with our customer service! For returns, please use the return form (which can
be
found here). If we received the product, we will pay the full refund as soon as possible (
at the latest within 5 days after receiving the return shipment
) .
Exchanges
You can exchange the product during the respite of fourteen days after receiving the product. Please send us an e-mail (
[email protected]
) and we will let you know as soon as possible how you can do this. For exchanges, please use the return form (which can
be
found here). You will have to pay the return shipment. Products can only be exchanged undamaged, and in their original packaging. We retain the right to refuse a request for exchange if the product does not meet this requirements.
Returns
Returns based on
withdrawal
or exchanges within the respite, or warranty claims must be requested first via our customer service! For returns, please use the form we provided (which can
also be found
here). The return shipping costs will always be borne by you.