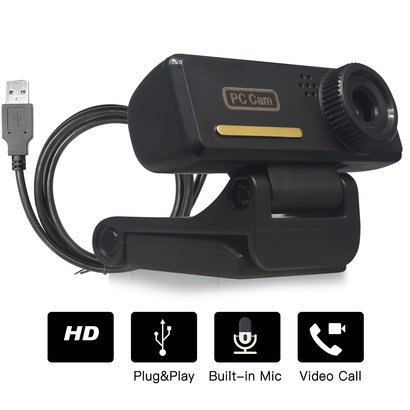 Smart Import Solutions
Webcam
Webcam HD 720
Availability:

In stock (697)
Product description
Webcam | 720P HD Video Calling | Teams, Zoom, Skype | School, Home, Business
Suitable for: YouTube, Zoom, Google Hangouts, Microsoft teams, Skype, Face Time, Whatsapp, Facebook live, Instagram, Xbox etc.
Plug-and-Play: The HD webcam is the best of the best. Microsoft Teams? Zoom? Skype? Take or teach classes? Say hello to your grandfather or grandmother? Or record your live stream for your YouTube channel? With this webcam HD webcam everything is possible. USB in it and done!
Built-in Microphone: With the built-in microphone, everyone can hear you clearly and therefore you can enjoy conversations with family, friends and / or colleagues without any problems! A crystal clear voice like never before.
Picture: With the SIS HD 2 megapixels (1280 x 720) sharp image you will appear professional and diligent. Of course, the people you speak to want to see you clearly, which is certainly possible with the plug-and-play SIS HD Webcam! The autofocus ensures that everyone sees you clearly and the light adjustment also guarantees your colleagues, family and classmates that they can see you perfectly everywhere!
Connection: The webcam has a USB connection (cable length 1.5 meters), it is a plug-and-play. After connecting the webcam to your laptop or computer, you can start using it immediately! The SIS HD Webcam can be used with Windows, Mac OS, Chrome OS and Android. It has never been that easy.
PROPERTIES:
✔ Frame rate of up to 30pfs (this can differ per computer)
✔ 2 megapixel with CMOS image sensor
✔ Alcorlink chip!
✔ Built-in microphone with automatic noise reduction
✔ Compression to MJPEG
✔ Lens size of 2.8mm with a viewing angle of 70 °
✔ 1600 * 1200 / 5fps, 1280 * 720 / 30fps, 640 * 480 / 30fps, 320 * 240 / 30fps video resolution
✔ USB 2.0 connection for image transmission, power supply and sound!
✔ Lens size of 2.8mm so that a clear image can be seen in every situation, even in low light!
✔ Manual focus (turn the lens knob for perfect sharp image)