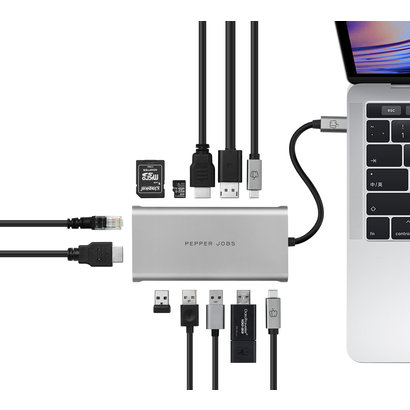 PEPPER JOBS
TCH-12 è un hub/adattatore multiporta USB-C 12 in 1.
Pepper Jobs - TCH-12
Disponibilità:

In magazzino (39)
Descrizione del prodotto
Marchio:

PEPPER JOBS

EAN:

4897089840391

Numero dell'articolo::

Pepper Jobs - TCH-12

Disponibilità:

In magazzino (39)
PEPPER JOBS TCH-12 Triple Displays USB-C Adapter
Pepper Jobs TCH-12 is a 12-in-1 multiport USB-C adapter. It converts a Thunderbolt 4/3 or USB-C source to HDMI*2 & DP video outputs, Gigabit Ethernet connection, USB-C PD charging port, SD/TF card readers. In addition, it has a USB-C data port, 2 USB 3.0 ports, 2 USB 2.0 ports for connecting to other peripheral devices. The USB-C PD charging port allows charging of the host device and supplying power to the hub simultaneously, the Gigabit Ethernet port allows the host device to get access to a wired Gigabit network and the HDMI/DP ports allow you to connect to up to 3 monitors*. This product has been designed to work with the new MacBook/MacBook Pro#, Google's new Chromebook Pixel and other Thunderbolt 4/3/USB-C ready devices.
*Intel integrated graphics can only output 3 video streams simultaneously, if you need to use 3 external monitors, you will need to disable the built-in display if the device is a laptop/tablet.
#The 2020 MacBook Air/Pro with Apple M1 processor only supports one video output despite it has multiple USB-C ports.
MST (Multi-stream Transport) support:
Single (1) display connection – HDMI or DP – 4K 60Hz max
Dual (2) display connection – HDMI x 2 or HDMI+DP – 4K 30Hz max
Triple (3) display connection – HDMI x 2 + DP – 4K 30Hz + 2*1080P max
●Driver-less, plug-and-play
●Support HDMI output at 4K60Hz max. or DP output at 4K60Hz max
●Support USB PD charging of up to 100W
●2 x USB 3.1 Gen 1 ports, 2 x USB 2.0 ports, 1 x USB-C data port
●Gigabit (1000M) connection, WOL
●1 x SD card reader, 1 x TF card reader
●Premium anodized Aluminum body
●Protection pouch included
Specifications for the PEPPER JOBS TCH-12
Input Connector
USB-C Male x1 for connecting to host device, USB-C Female x1 for charging input

Output Connector
USB-C data port x 1, USB 3.0 port x 2, USB 2.0 port x 2, SD/TF card readers, RJ-45 Gigabit Ethernet port

Video Output
HDMI port x 2 (up to 4K 60Hz), full-size DP port x 1 (up to 4K 60Hz), supports MST dual displays or triple displays

Operating Temperature
0 to 45°C / 113°F

Operating Humidity
10 to 85 % RH (no condensation)

Power Supply
USB-C Female Port: PD Input of up to 100W (20V/5A)

Certifications
CE, FCC, PSE, RoHS