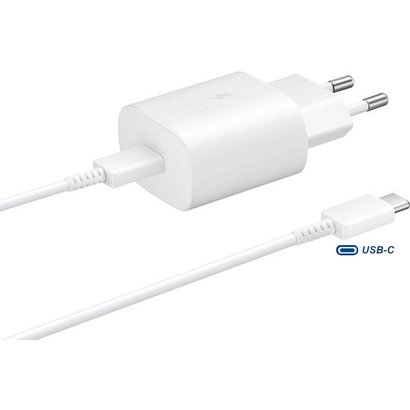 PEPPER JOBS
25W USB C Oplader Wit
PD25W Charger Wit
Disponibilità:

In magazzino (28)
Descrizione del prodotto
Marchio:

PEPPER JOBS

EAN:

4897089840582

Numero dell'articolo::

PD25W Charger Wit

Disponibilità:

In magazzino (28)
PEPPER JOBS 25W USB-C PD 3.0 PPS Wall Charger PD25W (EU plug) 1m USB-C to USB-C cable included
This charger boosts the charging speed for both Samsung smartphones and iPhones. The solution of this charger is USB-C PD 3.0 certified with PPS technology (TID: 3135), giving your device a safe charge with the right amount of power, all in a compact, travel-ready design.
A Smarter, Faster Charger
Charge your iPhone or Samsung smartphone from 0-50% in 30 minutes with our 25W USB-C PD 3.0 PPS Wall Charger. Upgrade your standard in-box power supply with a universal USB-C PD 3.0 PPS charger that gives an optimal charge for newer iPhone and Samsung models in a compact and travel-ready design. Equipped with PPS technology which allows optimized charging with compatible devices by dynamically negotiating the best charging voltage, delivering up to 25W for Samsung smartphones and 20W for iPhone (Genuine Apple USB-C to Lightning fast charging cable is required).
Optimized for Samsung and iPhone
Get optimal charging power with our 25W USB-C PD 3.0 PPS charger. This fast and universal charging solution is optimized for both iPhone and Samsung smartphones, as well as other USB-C PD enabled devices.
PEPPER JOBS PD25W wall charger allows you to:
Fast charge an iPhone 8 or later from 0 to 50% in approximately 30 minutes
Charge Samsung Galaxy S20+ from 0 to 50% in less than 30 minutes
Technical Specifications PEPPER JOBS PD25W
Input Connector
USB-C (1m USB-C to USB-C cable included)

Input
100-240V~50/60Hz, 0.8A

Output
5V/3A, 9V/2.77A, 12V/2.08A Max
PPS 3.3V-5.9V/3A, 3.3V-11V/2.25A

Total Output
25W Max.