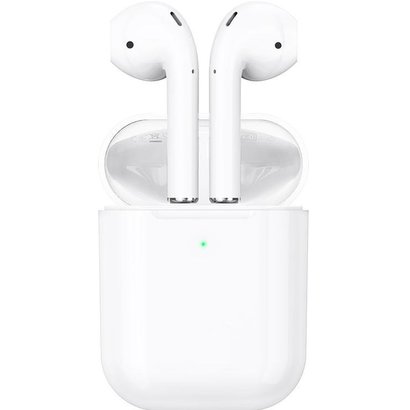 Smart Import Solutions
Air 1562M pods
Airoha 1562M Pods with Wireless Charging Case
Availability:

In stock (99)
Product description
Brand:

Smart Import Solutions

EAN:

872058967006

Article number:

Airoha 1562M Pods with Wireless Charging Case

Availability:

In stock (99)
Air 1562M Pods. A fantastic clear sound with deep rich bass tones and all functionalities are present in this set of wireless earbuds. The new chipset 1562M and bluetooth 5.0 ensures a stable connection and very low energy consumption, the earphones last no less than 5-6 hours on 1 charge.
The latest version. The SIS Air 1562M Pods with improved functionalities and including a "wireless charging" charging case that you can charge wirelessly. New features include:
Change pairing name: as soon as the earbuds are paired with your smartphone, you can change the name.
In-ear detection: as soon as you put the earplugs in the ear, they start playing, if you take them out, playback stops.
Ease of use is optimal. Remove the Air 1562M Pods from the charging box, connect them to your smartphone (IOS and Android) via bluetooth and they are ready for use. The pairing of the 2 earbuds is automatic and once paired with your smartphone, they always remain automatically connected. The operation can be set by "touch-control".
Additional functions. For Apple iPhone, the SIS Air 1562M Pods has useful functions. When opening the charging box, the earbuds are automatically connected and a pop-up screen is displayed on the smartphone indicating the battery indication. When you put the earbuds back in the charging box, they automatically switch off and are charged. The SIS Air 1562M Pods earbuds also work with Siri via the iPhone.
For every brand. The SIS Air 1562M Pods wireless earbuds are suitable for smartphones, for example Apple iPhone 12 / SE2020, Samsung S20, A51, A71 Sony, Huawei and all other Android smartphones.
The package contains:
✔ Two wireless earbuds
✔ Charging box (Capacity: 350mAh)
✔ Lightning charging cable
✔ Short Manual (ENG)
Specifications:
✔ Sound: Powerful, clear deep sound reproduction
✔ Bluetooth version: V5.0
✔ Earbud battery life: 5-6 hours
✔ Stand-by time: over 200 hours
✔ Charging time: 1 hour
✔ Size: Height 4.05cm, Width 1.8cm, Depth 1.65cm
✔ Suitable: For all Bluetooth devices
✔ Bluetooth distance: 10 meters
✔ Provides a "pop-up window" notification on iPhone (iOS only, not Android) when opening the box for easy pairing.